Photographs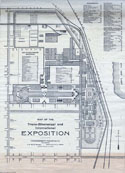 The Trans-Mississippi and International Exposition Digital Archive contains a large number of photographs taken in 1898 by F. A. Rinehart, the official Exposition photographer. Aided by his assistant, Adolph Muhr, Rinehart captured the exposition grounds, exhibits housed within its buildings, and studio and candid portraits of performers and participants. The photographs collected here also include a set of Positive Lantern Slide images created by amateur Omaha photographer William Wallace in 1913, some of which were made from Rinehart originals.
These Rinehart photographs and Wallace slides are cataloged below, according to the location at which they were taken on the exposition grounds. See map of exposition grounds at right. The Exposition consisted primarily of the Grand Court (which was also know as the New White City); the north and east midways (featuring carnival rides, exhibits, and shows); the Bluff Tract (which included the state buildings, horticultural exhibits, and an outdoor auditorium); transportation and agricultural exhibits; and the Indian Congress, an encampment of men, women, and children representing Native American tribes.
In addition to browsing photographs by location, you may also view images by creator or collection below. Of particular interest may be images of the exhibits in the fair, regardless of where they appeared on the grounds.